Memorial Garden and Columbarium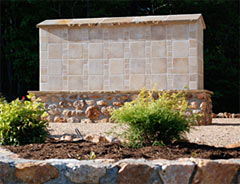 After more than a year of planning, research, and design, the Memorial Garden and Columbarium Committee broke ground on the project on May 4th, 2008. The members of the committee were: Danny Custer, Rev. John Heck, John and Sondra Kirsch, Milton Miller, and Don and Carol Osborne.
The Saint Peter's Memorial Garden and Columbarium was built by the congregation and dedicated on May 31st, 2010. The excavation work and foundations were constructed by Tim Underwood, General Contractor, Ferrum, Virginia; the rock work was done by David Conroy of StoneAge Masonry, Willis, Virginia; the tile work was done by Brad Barbour of Ferrum, Virginia; and the landscaping done by members of the congregation.